The Rain Crystal Water Distiller

Is no longer available
make Laboratory Pure Water, for Home use and for Chemical Lab. needs.





Model RC-8 shown below
More Pictures of Rain CrystalTM
These water distillers come with a standard screw type water heater element - 1000 watts 120 volts. (also available with 240 volt element) They normally use about 4 gallons per hour water flow for cooling condensing glass coil and boiler flow. These units will produce a gallon of water in approximately 3 hours, which is 8 gallons per day. (3 kwH per gallon of distilled water)
The Ideal setup would be a home with a water softening system, timed for recharge when distiller is not in use, as calcium and minerals in hard water will cake in the boiling chamber, requiring periodic cleaning with a solvent. A water softener replaces ionically, calcium and other hard minerals with the soft mineral sodium, which is recharged with the softener salt (sodium chloride) used to recharge the water softener. Thus the Rain CrystalTM needs no mineral cleaning as long as the water is kept soft.
---
Product brochure copied below:
---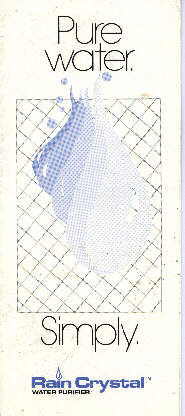 Why Use the

to Distill Drinking Water?
Only the Rain CrystalTM offers full spectrum water purification which addresses every pollution problem in a consistently effective, one-step process. The Rain CrystalTM is water cooled, scientifically designed to assure removal of volatile chemical contaminants, and made from inert PyrexR glass to eliminate the metallic contamination that can be caused by stainless steel. The Rain CrystalTM is the only laboratory quality distillation apparatus available for home use. Because it is compact and uses readily available electrical components, the Rain CrystalTM costs less than half the price of comparable lab quality devices.
The clear PyrexR components of the Rain CrystalTM make the distillation process strikingly observable. Protected and complete within its bronze-colored PlexiglasR case, the Rain CrystalTM produces the purest of drinking water without requiring any additional supplies, year after year.
The compact Rain CrystalTM, no larger than most automatic coffee makers, arrives completely assembled in its PlexiglasR case, Automatic and portable, the Rain CrystalTM is easy to use. Simply plug it into a standard outlet, attach it to a water faucet by means of the quick-fit coupling provided, set the medical-quality flowmeter, and walk away with the assurance that the purest of water is being automatically produced at a fraction of the cost of bottled water. Should the water pressure fail, the Burnout Protection Switch eliminates malfunction.
Only the Rain CrystalTM provides the purest water with the utmost convenience. This handcrafted appliance is attractive and unobtrusive, and it assures years of trouble-free operation. For those who desire pure drinking water, the Rain CrystalTM is clearly the best solution.



NO ASSEMBLY REQUIRED.

Shipped entirely assembled.

Complete with Snap-on faucet coupling.

NO BIGGER THAN A BREADBOX.

Actual dimensions of largest unit are:

15" , 9" high and 6" deep.

All units are standard 120 volt

electrical systems and require 3kw

to produce 1 gallon distilled water.
" . . . We are, unfortunately, in a position in which we have to use technology to rectify the problems caused by technology . . . "
Any quality water distiller will remove most solids, salts, nitrates, bacteria and even heavy metals. Most water distillers on the market today require activated carbon filtration to remove organic chemicals, but the filters deteriorate with use, "dumping" stored chemicals into the purified water if not regularly replaced. In addition, some contaminants boil at a lower temperature than water. These may rise and condense with the steam, tainting the purified water. Holes in the condensing coil don't do much but waste steam. Any stainless steel distiller has a strong likelihood of actually adding metallic contaminants; some other distillers add plastic residues.
The Rain CrystalTM, in contrast, uses a two-stage system to remove disease-causing biological, mineral and chemical contaminants. First, cooling water is circulated through the condensing coil (A), warming to nearly boiling temperature. Dissolved gas bubbles appear in the coil and are discharged into the reservoir (B), either escaping here or discharged (C) to the drain. In the second stage, some chemicals left after step one may rise with the steam to be vented (F) from the condensing chamber (D), while others remain in the boiler (E) to be washed down the drain with minerals and other heavy contaminants. Test results reveal better than 98% removal of toxic wastes on a consistent basis, without carbon filtration.
For water of unsurpassed purity, for scientific engineering, for attractive trouble-free design, the Rain CrystalTM is the answer year after year after year.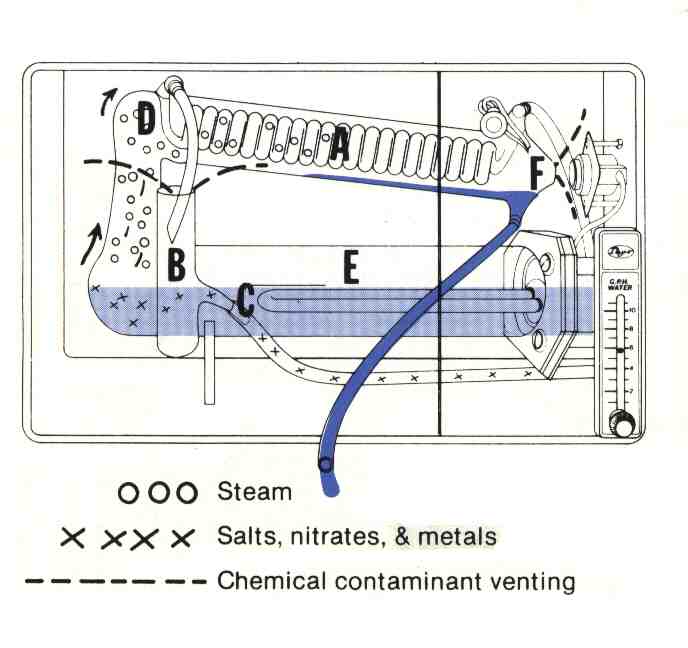 DO YOU KNOW WHAT'S IN YOUR TAP WATER?
Pesticides, fertilizers and industrial pollution enter our water as it cycles through the environment. As water moves through the atmosphere and ground, it acts like a large sponge and picks up mineral, chemical and gaseous pollutants. To find water that has not been affected by pollution finds us drilling deeper and deeper wells. This water has been under ground a long time and contains heavy mineral contents. These minerals are not in balance with those found in the human blood stream, and can cause or aggrevate health problems such as bladder stones, arthritis and hardening of the arteries to mention a few.
We can not separate ourselves from the earth or our water. The quality of that water will have a direct effect on our health over the years or faster under severe conditions. To insure our chances for better health we must take steps to prevent polluting our own bodies with the water we drink.
WATER SOFTENERS ARE GREAT FOR CLOTHES BUT DO NOT REMOVE POLLUTION!
HOW EFFECTIVE ARE WATER FILTERS OVER 3 YEARS?

*Tests performed on Philadelphia water by Water Test Corp. 1983

*Filter container materials appear to contaminate filtered water when cartridge is new.

Activated carbon filters remove some chemical contaminants only. Salts and dissolved metals are not extracted.

Reverse osmosis is a microfiltration system which is partially efective for most pollutants including salts. These filters become less effective with use. Individual cartridges vary widely in capabilities.
DISTILLERS ARE AT THE TOP OF THE CHART.
Percentage of contamination removed.

RAIN CRYSTALTM figures from California Analytical Laboratories.

*Figures reflect salt removal as TDS from manufacturer brochures.

------

DOTTED LINES INDICATE INTERMITTENT CYCLE OF BATCH TYPE DISTILLERS.
| | |
| --- | --- |
| | The Only Laboratory Quality Home Distiller! |
HOW DOES IT LINE UP WITH THE COMPETITION FOR BEAUTY & CONVENIENCE?
Only the Rain CrystalTM is made of inert PyrexR and high grade surgical materials to stop chemical and metallic contamination. No moving parts to fail. Engineered by experts with an artistic eye.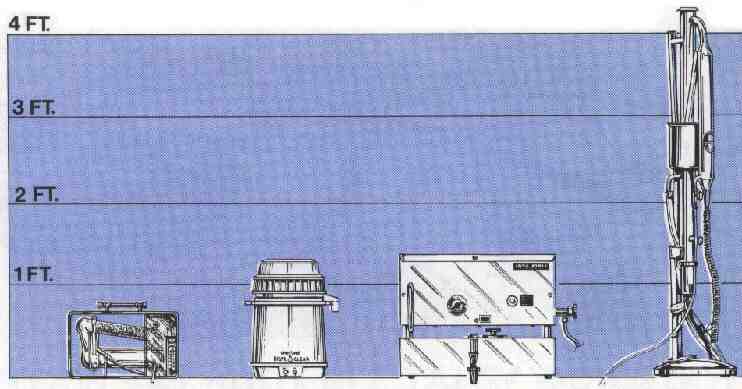 All units shown in relative sizes as specified in manufacturer's literature.
| | | | |
| --- | --- | --- | --- |
| Rain Crystal, 8" tall, 13" wide, 6" deep, weight 6 lbs. | DistillClear, 16" tall, 9.5" Dia. weight 13 lbs. | Pure Water Midi Still D, 16 3/4" tall, 21"wide, 15.5" deep, weight 23.5 lbs. | New World V, 54" tall, 12" Dia. weight (w/stand) 28 lbs. |
Hi Resolution of left image

Don't be fooled by Rain Crystal's size...

These units produce 8 gallons per day with less electrical energy than the machines depicted above.
WORKS SAFELY WHEN YOU'RE AWAY OR WHILE YOU SLEEP.

It takes time to distill water no matter what type of purifier you may be using. The Rain CrystalTM features a medical quality flow meter and burnout switch to shut off power in case of malfunction. This means you can leave it to run safely, even at night while you sleep, freeing your sink or utility area for day use. Your pure water will be waiting in the morning for the best cup of coffee, tea or water you ever had.

ATTRACTIVE ENOUGH TO SHOW!

SMALL ENOUGH TO STORE!

READY TO USE IN MINUTES

Just snap on to faucet, plug in cord, place hose into storage jar and turn on the switch. Uses regular 115 volt outlet.

EASY TO CLEAN.

Cleaning can be done without ever moving your Rain CrystalTM. Just pour in reusable fluid and empty through the built in cleaning drain.

DURABLE STURDY PLEXIGLAS PROTECTS GLASS PARTS.
Warrenty picture deleted, as product is no longer available
---
Product brochure ends above here:
Pictures: 1 2 3 4 5 6 7 8 9 10 11 12 13 14 15 16 17 18 19 20